"
𝘛𝘩𝘦 𝘸𝘪𝘳𝘦𝘴 𝘸𝘪𝘭𝘭 𝘵𝘳𝘢𝘯𝘴𝘮𝘪𝘵 𝘵𝘩𝘪𝘴 𝘴𝘢𝘤𝘳𝘦𝘥 𝘳𝘦𝘴𝘰𝘯𝘢𝘯𝘤𝘦. 𝘞𝘪𝘵𝘩 𝘵𝘦𝘢𝘳𝘴, 𝘵𝘩𝘦 𝘷𝘰𝘪𝘤𝘦 𝘰𝘧 𝘵𝘩𝘦 𝘢𝘯𝘨𝘦𝘭𝘪𝘤-𝘓𝘢𝘺𝘦𝘳 𝘪𝘴 𝘳𝘦𝘴𝘶𝘳𝘳𝘦𝘤𝘵𝘦𝘥. 𝘞𝘩𝘢𝘵 𝘪𝘴 𝘪𝘮𝘢𝘨𝘪𝘯𝘦𝘥?
"

–@virtual_self's description as of October 25, 2017
Virtual Self
, stylized as
VIRTUAL SELF
, is a project by
Porter Robinson
.
Background
Edit
The Twitter account for the project was created on October 23, 2015, though it was not until October 25, 2017 that Robinson officially announced it along with the release of "EON BREAK".
The project's self-titled debut extended play was released on November 29, 2017. On December 8, 2017, its first live show, VIRTUAL SELF UTOPIA, was also scheduled to be held in Brooklyn, New York's Avant Gardner[1], though Robinson confirmed in an update on December 1, 2017 that the venue had changed.[2] It was initially believed that the project was tied into an alternate reality game; however, Robinson said to a fan the night of the event—and later confirmed in an interview with Dazed[3]—that there was not one involved.
technic-Angel
Edit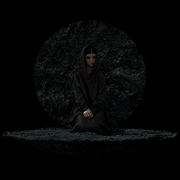 The technic-Angel, also known as the technic_Angel and/or Technica
[4]
, is one of the two character figures associated with Virtual Self. Their gender is unconfirmed, though they are believed to be female due to their appearance—a young womanlike figure in a dark robe— and also speculated to represent half of the project.
According to virtualself.co, they are the creator of "Particle Arts", "Key", and "EON BREAK". The handle for their Twitter account is @technic_Angel.
Pathselector
Edit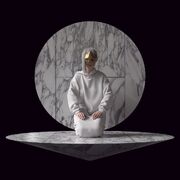 Pathselector is the second of the character figures and the speculated other half of Virtual Self. While their gender, like the technic-Angel's, is unconfirmed, they are depicted as being donned in light clothing, with white hair and a gold mask covering a majority of their face.
According to virtualself.co, they are the creator of "Ghost Voices" and "a.i.ngel". The handle for their Twitter account is @pathselector.
One of the greatest influences for Virtual Self was the 1998 anime series Serial Experiments Lain.[3]
The date of the project's revelation, Robinson's "This Is Good" playlist on Spotify was cleared save for four songs: "Lesson One" by Starsmith, "Satisfy" by NERO, "Candy Flavored Lips (bo en イパネマREMIX)" by Spazzkid, and "EON BREAK".[5]
External links
Edit
References
Edit
Community content is available under
CC-BY-SA
unless otherwise noted.